Joined

Apr 8, 2013
Messages

1,389
The Dan Quinn Report - Week 1 - At NYG
The Defensive Destruction of the NY Giants was thorough and nationally televised.

BOB STURM
SEP 13, 2023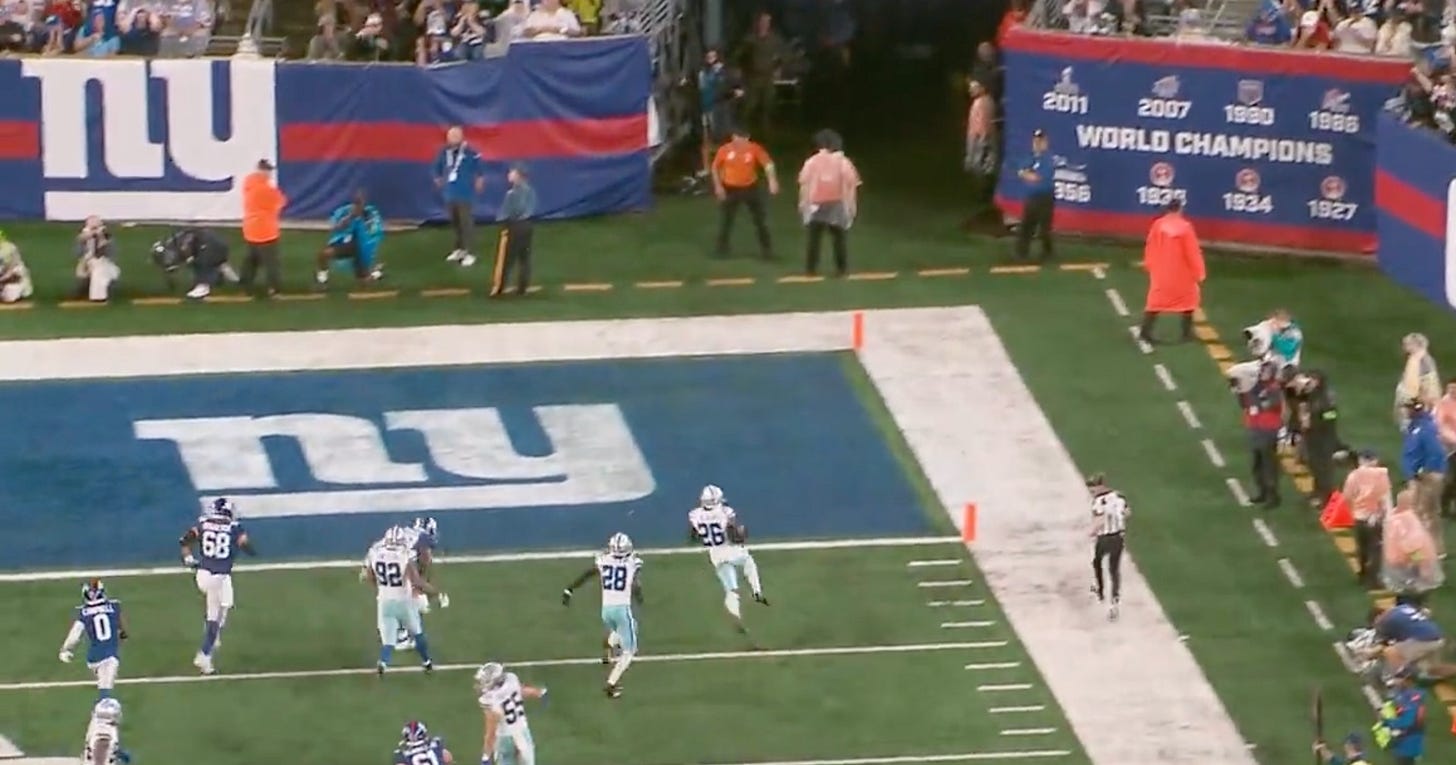 Wow.
There is no other way to properly and concisely describe what the defense did to that optimistic team from New York on Sunday Night.
Imagine the levels of excitement that got squashed: a young team prepares for a new season after coming off a playoff victory the year before. The Giants got their guys signed, had a draft and offseason full of smart additions (including one of the scariest tight end weapons in the league), and pointed to the Week 1 date with those hated Dallas Cowboys to make the first bold strike of 2023 against a rival.
The game starts and a march right down the field commences on the opening drive. Your newly extended QB and RB both take turns running the football right at the Cowboys. Ten straight runs – some designed, some scrambles – takes the ball down the field efficiently without a single pass attempted.
The Giants start feeling themselves and see that their plans are starting to work. They proceed all the way to the Cowboys 8-yard line.
3rd and 2 and the end zone is starting to appear reachable. But, that is when the avalanche of mistakes begins and dreams turn into nightmares.
False Start on 3rd-and-2, Andrew Thomas jumps vs Micah Parsons.
Poor snap sends Daniel Jones falling on a live ball for loss of 14 yards as Parsons arrives.
Field goal team must come on, only to have Juanyeh Thomas block the kick and Noah Igbinoghene runs it back for a touchdown.
Micah Parsons destroys your next drive with a sack.
Another sack begins the next drive and suggests there is no blocking Dallas.
A fairly innocent dump-off pass on 3rd-and-19 turns into a Trevon Diggs hit of Saquon Barkley that amazingly becomes a Daron Bland Pick-6.
With just 2:30 left in the 1st Quarter, roughly less than seven minutes after the false start, the game has already ended, 16-0.
This is the equivalent of a sudden first-round knockout or that famous Ron Burgundy GIF.
To say the Dallas defense sent a message to the rest of the NFL on Sunday Night would be an understatement as well as a fairly unnecessary exercise. The NFL already knows that this defense is a problem. Sure, there are weaknesses to attempt to exploit – New York opening the game determined to run the ball every play is probably something we should get used to – but, nobody is looking forward to trying to get their passing game going against this front.
Dallas had seven sacks, three takeaways, allowed 171 yards, and allowed zero points against a team that was playing their new and improved offense and coming off a playoff road upset of the 13-win Minnesota Vikings.
It was as close to a perfect game performance from Dan Quinn and his crew as anyone could ever imagine. In fact, as you look at the data box below, is there anything that stops you calling this a perfect game?
You know what I do when I see a game play out like this. I immediately want to go through the historical archives to see if the Cowboys have ever had a game before that was quite this dominant.
So, we went back to the very beginning of Dallas Cowboys football and looked through every game that they have ever played in the regular season or playoffs. 1,031 games in total, to be exact, and tried to find similar occasions that featured
a shutout, with 171 yards or fewer, seven sacks, and at least three takeaways and plugged them into my old friend at ProFootballReference's Game Finder
.
Here is what the database spit out:
There was one other game. Seattle at Dallas on October 11, 1992. Any of you who were in attendance, we expect a full report of the day in the comments below.
Here is a copy of the boxscore
and you know I had to go
read a game story from the AP
:
IRVING, Tex. — The Seattle Seahawks had the misfortune of meeting the Dallas Cowboys only six days after the Cowboys were embarrassed by the Philadelphia Eagles.
Shaking off a 24-point loss to their NFC East-rivals, the Cowboy defense produced seven sacks, two fumble recoveries and an interception return for a touchdown Sunday in a 27-0 victory over the hapless Seahawks.
The Cowboys (4-1) allowed the Seahawks (1-5) only 62 yards of offense while recording their first regular-season shutout in 14 years. The Cowboys' best previous performance for yardage allowed was 63 against Green Bay in 1965.
"We wanted to get back on track after what happened to us in Philadelphia," Cowboy linebacker Ken Norton said in reference to a 31-7 defeat. "Our defense was awesome."
It was the ninth consecutive victory in Texas Stadium for the Cowboys, their longest home winning streak since they won 18 in a row from 1980-81.
"We got thoroughly whipped," said Seattle Coach Tom Flores whose team compiled only six first downs and 24 yards passing. "There's not much you can say. We couldn't run and they got after us when we tried to pass."
At the end of the game, the Seahawks were running out the clock instead of passing. "We just wanted to get out of town," Flores said. "This one was over."
Yes, the previous Monday Night in Philadelphia did not go well for those 1992 Cowboys, so they made the Seahawks pay dearly. Stan Gelbaugh and Mark McGwire's younger and taller brother Dan played QB that day for Seattle.
Anyway, back to this beatdown. We have seen this enough times to know that Dallas has an extraordinary group of pass rushers and you can see below that eleven different players were credited with at least one pass rush pressure. Four different players had at least five pressures and five different payers had at least one sack.
It all starts with Micah Parsons and his brand of awesome destruction, which not only allows him to ruin game-plans, but as we saw several times on Sunday, his presence gives others great opportunities. More than a few readers have pointed out in the last year or so how he reminds them of Luka Doncic who not only dominates, but allows his teammates to enjoy unordinary advantages because he attracts so much of the opponent's attention.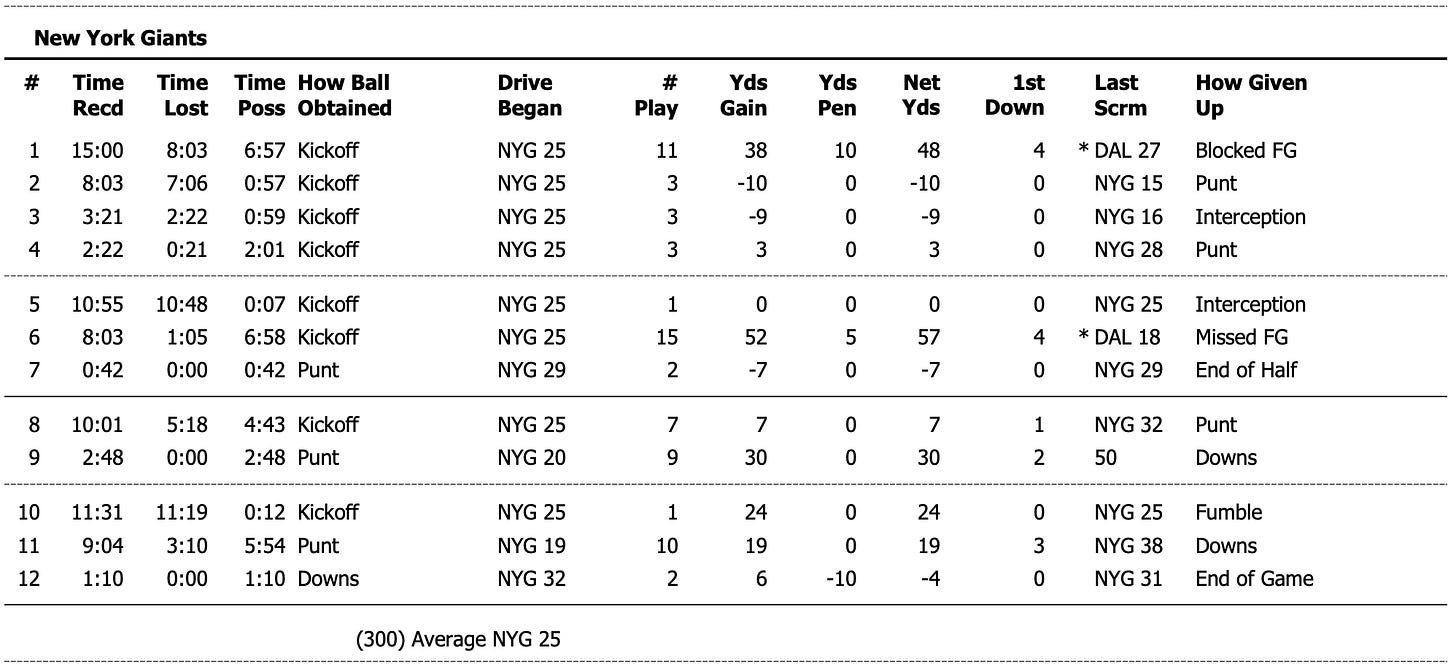 Above is the NFL gamebook summary of the Giants 12 drives on Sunday. It is my thesis that the game effectively ended when the interception occurred on the third drive of the game. From there on, the Giants three drives that yielded multiple first downs and only one of those made it over midfield. That drive, late in the second quarter, resulted in a comically missed field goal from 36-yards that made it clear to anyone involved that the Giants had no resistance to offer on this evening.
I have been keeping Splash Plays for over a decade now and I think it is a really solid way to track individuals who have moments that matter on a defense. I suppose I should probably explain it in great detail for all of our newcomers, but for now
allow me to leave a little reading material for you here
and hopefully it will answer your questions.
Anyway, Dallas had 37 splash plays on Sunday which is way more than I ever recall. It is likely the single-game high since I have been keeping this.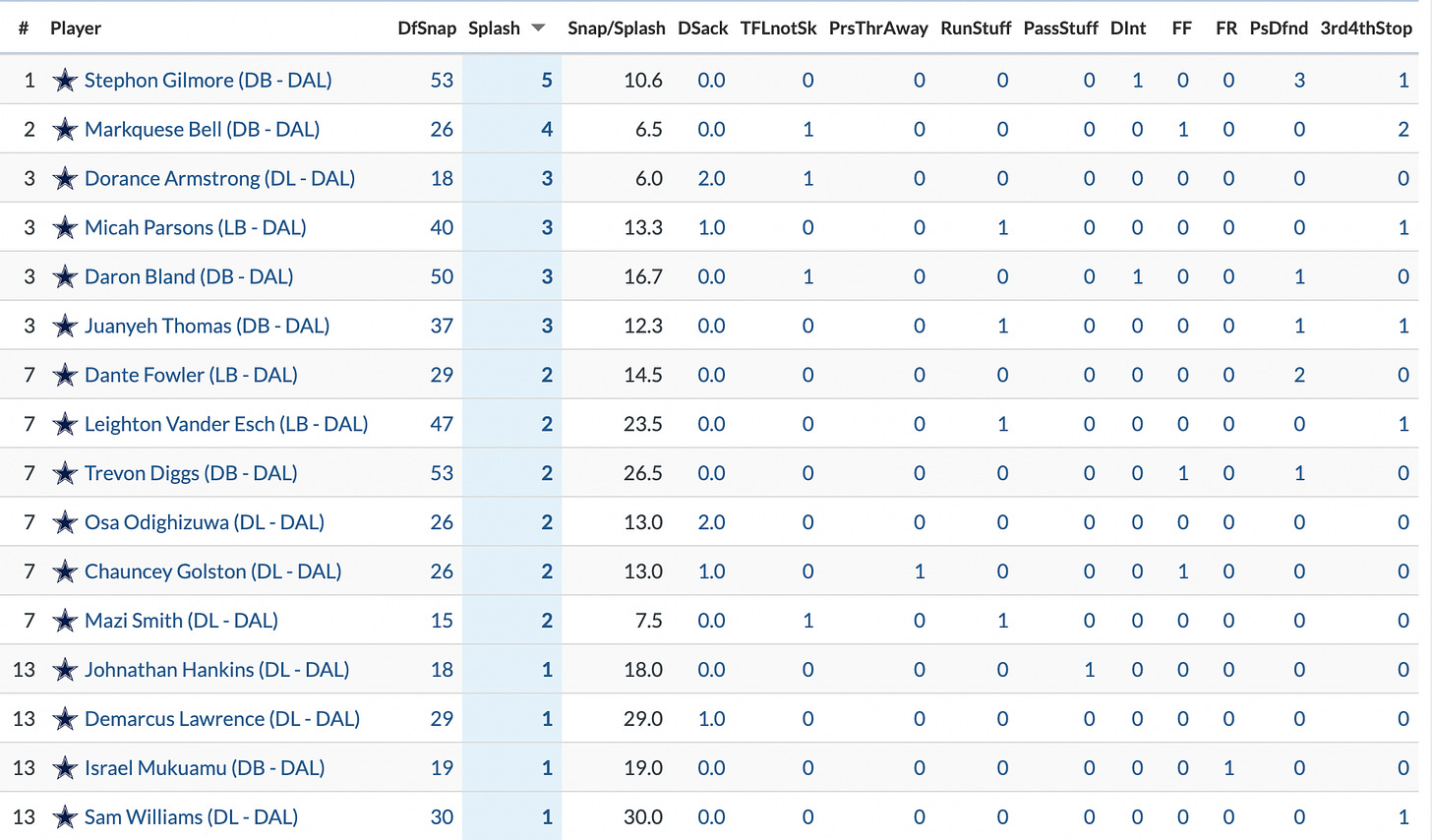 Some very interesting names on that list near the top as Markquese Bell and Juanyeh Thomas introduced themselves to many for the first time. Bell is an incredibly interesting and tiny linebacker who was all over the field. Thomas was appearing to mostly play the role of Donovan Wilson and is slated to be a special teams ace this year, but also has some defensive utility as we saw in this game with a beautiful pass defended against Darren Waller.
NEXT GEN DANIEL JONES PASS CHART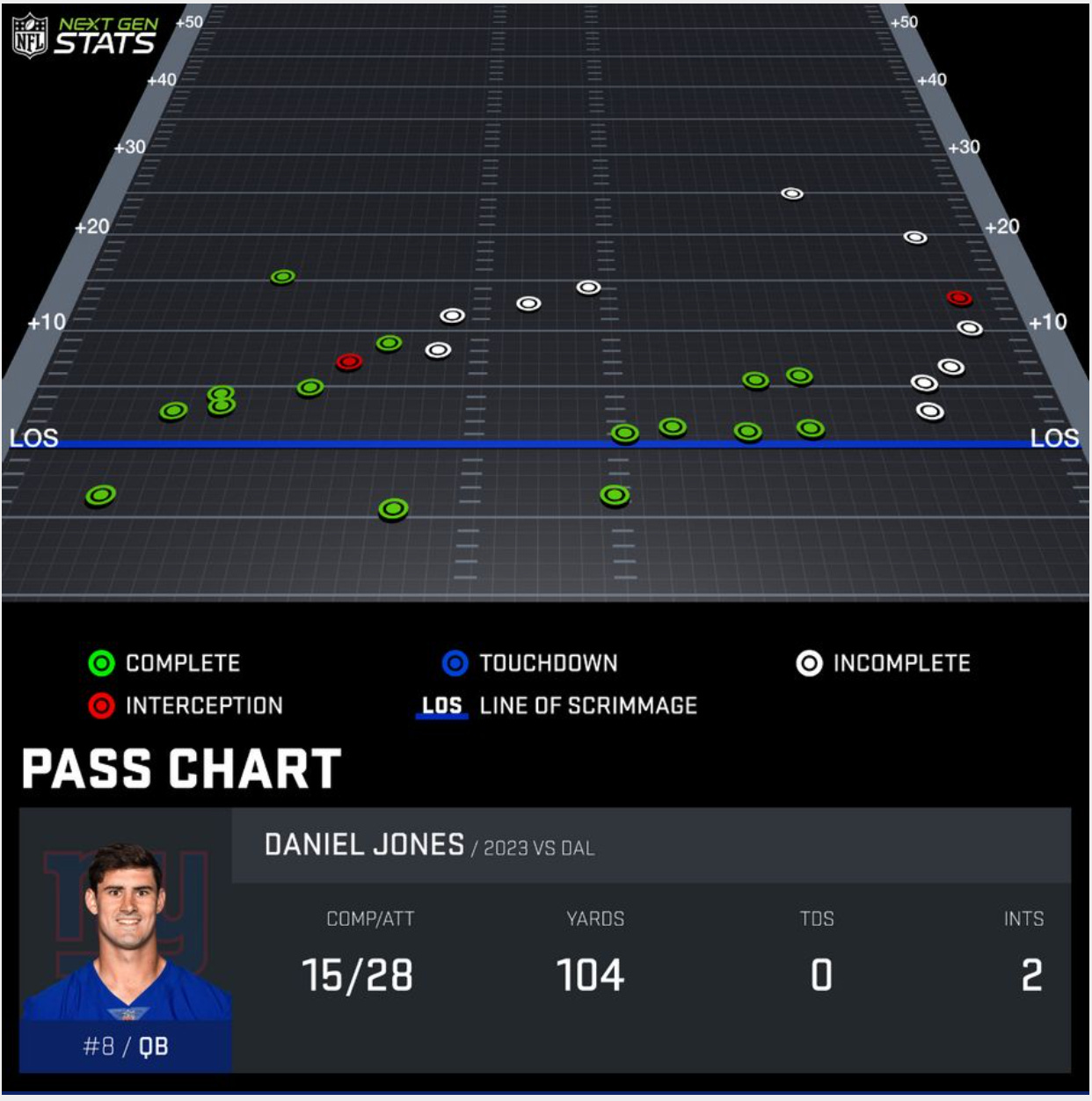 This above is what a passing chart looks like if you really never have time to let a single pass route develop down the field. He was under severe duress and while it is true that the Giants don't ever let him sling it around, at some point they will need to use a wide receiver or two to relieve some pressure on their QB.
NEXT GEN SAQUON BARKLEY RUN CHART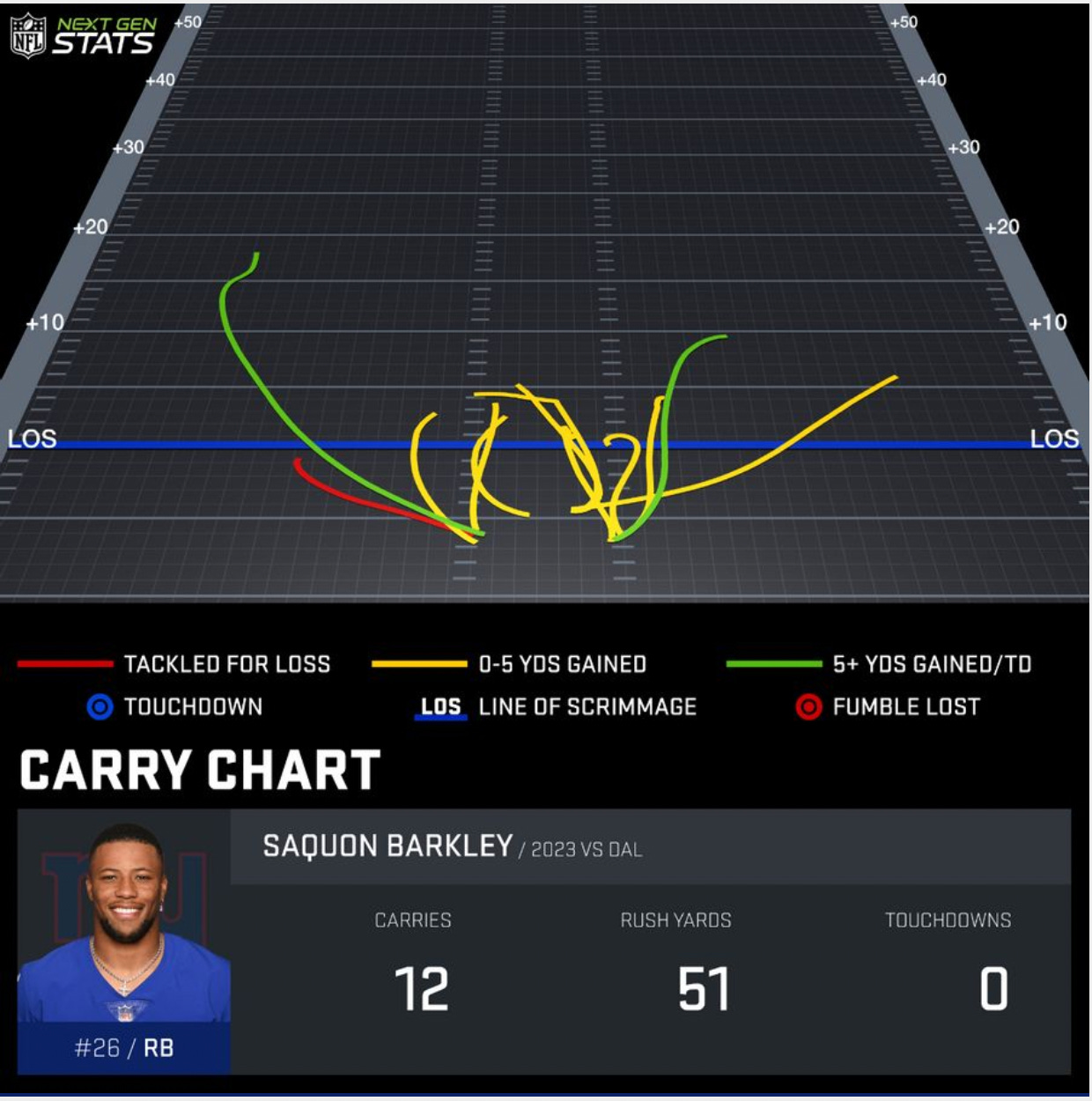 I think the Giants are set up to run the ball and that Saquon is one of the best in the biz. That said, I also think his impact on Sunday was pretty over-stated when people talk about how the game is different if they keep pounding him. He had two remarkable runs and you will live with that any day.
Now, are the Cowboys susceptible to the run? Yes. We will need to answer that question as this season develops. Teams will repeatedly attack it – partly because they seem vulnerable, and partly because the other way of pass attacking seems insane given the pass rush and coverage combo that Dallas has at its disposal. San Francisco and Philadelphia will try to ground and pound and by then, hopefully Dallas has answers ready. But, the Giants are not that team. The Jets might try this coming Sunday with Breece Hall and Dalvin Cook, and because they really have no other good choices, it seems.
Alright, let's look at some clips and call it a day.
FILM STUDY
I think we should start with my explanation for today's project. I stopped at six plays and could have picked 26. There was simply too much, too good this week. Remember this day for a particularly tough week that no doubt awaits ahead this season.
Reminder: the 3 dots on each video on the far right includes "playback speed" and I recommend you slow down the speed as far as it goes so you can see the details of each play in slow-motion.
1Q - 7:54 - 3rd and 10 - NY 25 - Jones sacked at NYG 15 for -10 yards by Parsons
I wrote about this play on Monday
. I will just blockquote that here:
The first big moment was on a 3rd and 10 with 7:54 to go in the 1st Quarter. Here, DQ calls an overload to attack the right side of the Giants line with Dorance Armstrong lined up in the A-Gap between the center and right guard, Micah Parsons is in the B-Gap between the right guard and right tackle, and DeMarcus Lawrence is in the C-Gap outside the right tackle. This isolates each of those players if they decide to give their line no help.
The Giants appeared ready, though, because the tight end stayed in against Lawrence to help. This allowed the RG Glowinski and the RT Neal to both start on Parsons, before Neal would peel back to take over from the tight end and get to Lawrence. The trouble with that is Glowinski has absolutely no prayer with Parsons and the moment Parsons squares with the right guard, it is over. Parsons brushes Glowinski out of the way and dips his shoulder between the off-balance guard and Saquon Barkley who is now headed out to his route.
Perhaps Barkley was supposed to chip Parsons, but the moment he didn't make contact, you can see Daniel Jones change his posture. He now sees Parsons right in front of him about five yards away. Now, like a postman who notices a huge dog is chasing him with no barriers to protect, you can see everything else cease to matter. Jones is now protecting himself and bracing for impact. Parsons closes in a blink and the series ends with Jones on the ground and rubber pellets all over his face.
1Q - 3:21 - 1st and 10 - NYG 25 - Jones sacked at NYG 16 for -9 yards by Lawrence
Again from Monday on this play:
this play also had no chance for Jones as the run fake requires the line to not be thrown aside as rookie center John Michael Schmitz, the Minnesota Golden Gopher, was by Osa Odighizuwa. Now Glowinski is trying to recover to get to Osa, while DeMarcus Lawrence is making easy work of Daniel Bellinger, the hopeful tight end who wanted to try to deal with him. Both are now free of their blocks and bearing down on Jones who needs a bit more time for Slayton to get down into the secondary. But, as you surely know, he has no time and seems to basically give himself up before Parsons arrives again.
1Q - 2:30 - 3rd and 19 - NYG 16 - Jones short pass intended for Barkley is intercepted by Bland on hit by Diggs. Bland returns for touchdown.
Two plays later, the game essentially ended with 2:30 to go in the 1st Quarter. It was a 3rd and 19 and the Giants were now content to bring on the punt team and would run a quick swing pass to Barkley in the flat and let him get a few yards. He caught the ball just short of the 20, needed to get to the 35-yard line to flirt with a 1st down. Instead, the wide zone defender delivered a hit that jarred the ball loose before it was fully secured. The ball popped right to Daron Bland who couldn't believe his good fortune of a gift interception and he quickly ran in for a touchdown. But, it was all caused by the hit by Trevon Diggs.
Same play, End zone.
Next time, they will just punt on 3rd down for better results. Wow.
2Q - 10:55 - 1st and 10 - NYG 25 - Jones pass intended for Waller intercepted by Gilmore at NYG 38.
So, now it is 19-0. But, still, the game should not be over, especially for a team at home. There is reason to keep fighting and maybe get the game to 19-10 by halftime.
Instead, it is my biggest pet peeve of all time: a completely unnecessary first-down turnover. The worst sin a QB can commit and something you might expect from a rookie. First-down turnovers should be rare. There is no reason to risk the game on the first down when you know second down awaits if you don't give the ball away.
Instead, a 5-man rush chases Jones to the sideline and after passing a shorter gain to Barkley, he throws a hopeful ball in the general direction of Darren Waller. Stephon Gilmore is there to pick off the pass and bad goes to worse for the Giants.
Same play, End zone.
Here is the end zone view. Here you can really see (slow motion helps) how open 26-Barkley is and Jones is looking right at him, how terrifying Parsons is chasing you, and what an amazing play on the ball Gilmore makes. Just terrific all around.
2Q - 0:37 - 2nd and 10 - NYG 29 - Jones sacked at NYG 22 for -7 yards by Odighizuwa
This one is called, "Look at what Micah Parsons makes possible for his teammates," because on this final play of the first half where Brian Daboll wants his team to get to the locker-room, we see Parsons lined up at DT and No. 97-Osa Odighizuwa way outside him in a Wide-9 stance. Parsons engages the LT and LG and big No. 78-Andrew Thomas wants to help on Parsons before getting out to Osa.
Trouble is, Micah takes them both on and he cannot get free. Now, because Jones holds the ball, Odighizuwa comes all the way underneath and smashes Jones again. Incredible. A free runner from a dude that big is pretty rare.
3Q - 2:48 - 1st and 10 - NYG 20 - Barkley left tackle for 18 yards
Finally, let's look at the biggest run bust of the night so we all know there is work to be done for these kids on the defense. No. 33-Damone Clark was the only starter with a sub-standard PFF grade on Sunday and I am guessing this play was a big reason for his grade.
Just watch him.
This is what happens when you are watching the QB and miss where the ball is. He is in the right gap (the right side B-Gap between LG and LT), but Jones' pass fake across the field gets him to chase. Meanwhile, he is vacating his gap and Barkley runs right where he just was. It doesn't matter how fast you are, if your eyes betray you, you take yourself out of plays. This is why we need you to read your keys. Do not get fooled by window dressing. I am sure he studying extra hard this week as young players must. He will be fine, but I am sure Leighton would like a word with him.
Anyway, there you go. Enjoy your week!