Joined

Apr 8, 2013
Messages

1,345
Decoding McCarthy - Week 1
Cowboys Offense stays out of the way in big win versus New York

BOB STURM
SEP 12, 2023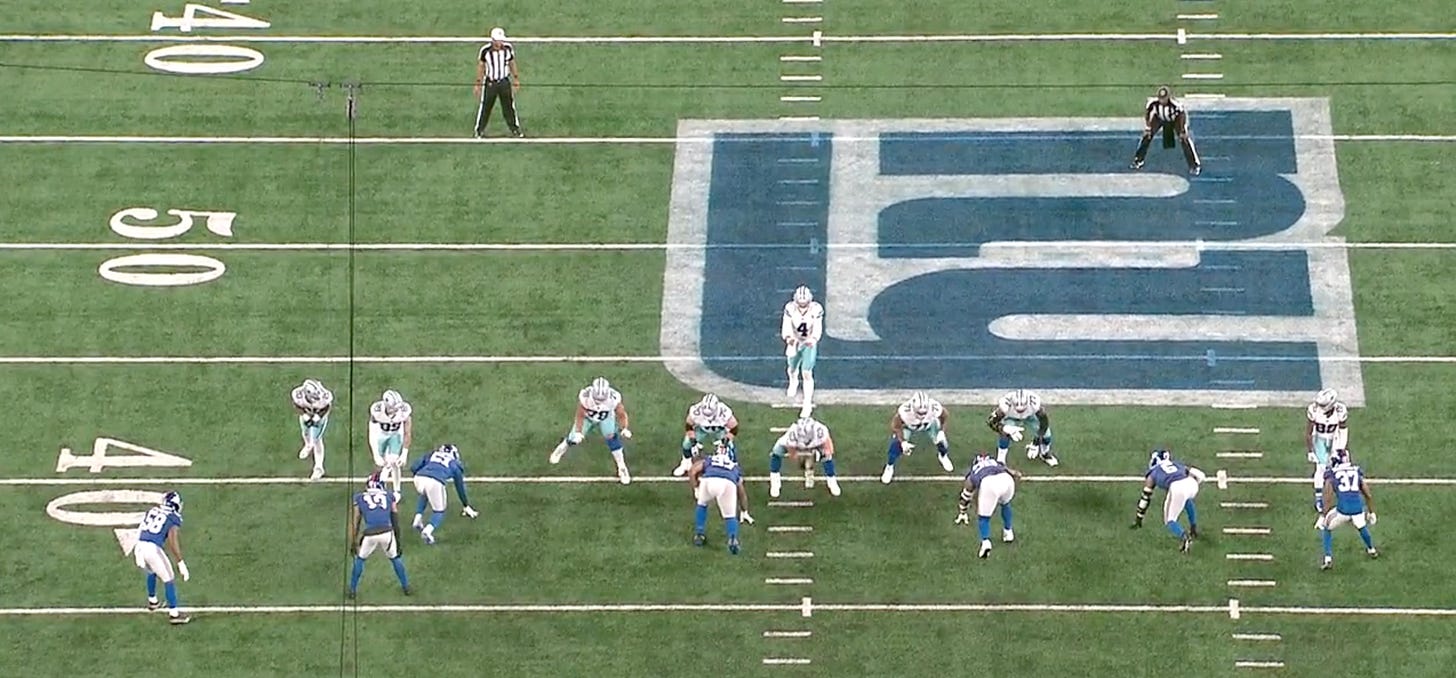 Every Tuesday, we offer an Xs and Os perspective on the Dallas Offense. This has grown over the years from Decoding Garrett to Decoding Linehan to Decoding Kellen and now to Decoding McCarthy. We want to know how this offense is operating and what makes them good or bad. Rejoice, because yes, we have our film back!
We expected that the Cowboys offense would be under duress and trying to survive the chaos of a road atmosphere to win a divisional road game on Sunday Night. Instead, most of the 40-0 win against the New York Giants felt a lot like it was a dress rehearsal for what would await them down the road in 2023.
Dallas' offense was able to play a stress-free contest that felt like they were passengers in this defensive demolition of the Giants morale and will. It was simply a matter of the offense not doing anything silly.
Because of our habit, we will examine the defense on Wednesday in this space, but, truth be told, they deserve to go first this week.
It certainly isn't that the offense played badly, mind you. They did their part and with zero giveaways and five scoring drives (four of at least 50 yards) they have nothing to be ashamed about. We will show you in this piece a lot of things to like. But, there was no fireworks display that wowed the nation and no flexing offensive muscle that sent a message. It was a driving rainstorm at times and the game was over in the first quarter.
The Cowboys racked up only 265 yards of total offense. That number is low by normal standards as we consider an above average game to aim for 360 and an excellent game to exceed 400. Below,
I wanted to show you with Game Finder
that Dallas is 9-29 in games where they only get to 265 yards in the last 20 years: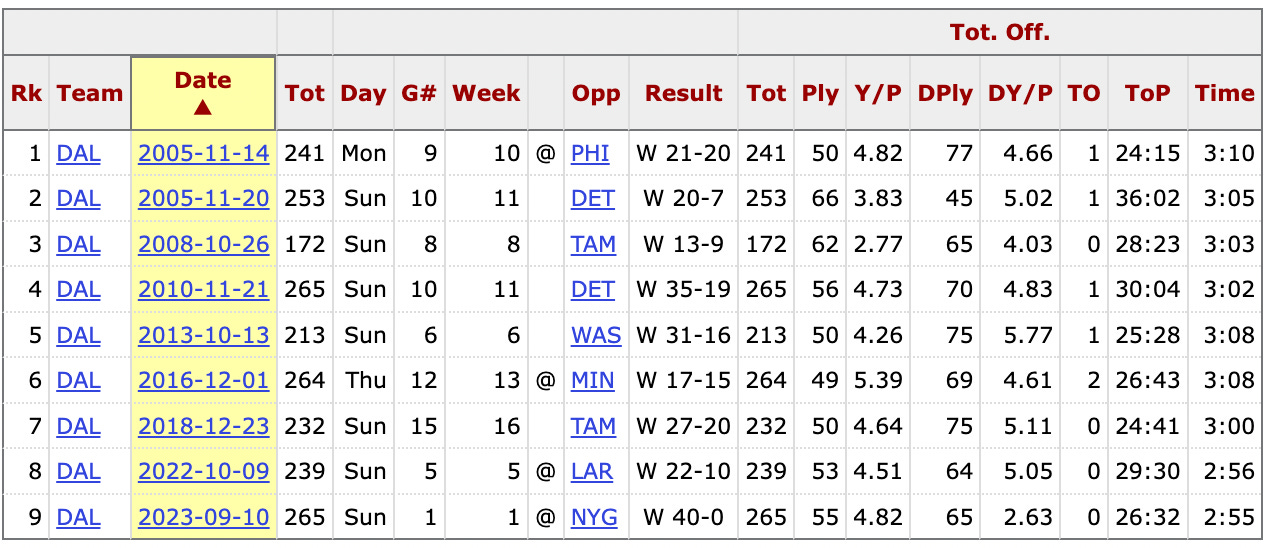 (Courtesy ProFootballReference.com)
You might notice the one other game since 2018 that was put in the victory column of this nature was last year's Week 5 affair at Los Angeles. They are 2-6 in that stretch now, but the other win was the exact same formula. A special teams touchdown and then a takeaway gave the Cowboys an early lead, and an entire week of us imagining how to play that game disappeared in an opening flurry. The Cooper Rush offense that week went from preparing to deal with Aaron Donald and the Super Bowl Champion Rams in their stadium to trying not to get in the way of a blitzkrieg from the Dallas defense and special teams. When this happens, you just play a clean game – Dallas was +3 against the Rams that day and +3 against the Giants on Sunday – and stay out of the way.
So they did.
But, there are still some very interesting concepts to show you as we attempt to Decode new parts of this Cowboys offense today. Come along!
We think that Dallas will try to trade some quantity for quality this year in terms of production. That doesn't mean they don't want to be near the top of the league in points and yards gained, but it does mean that they want it to be sustainable and doesn't run out of gas late in the year, when teams start taking away what they love to do most.
Its an easy theory to throw out there, but what does that mean?
Well, in 2022, the Cowboys did not have a reliable running game in running situations. And by that, I mean, late in the season as the weather was turning and the Cowboys would play a number of games on natural grass and outdoors, in particular, their ability to run the ball in running situations stopped working. When it stops working in these situations (early downs in run scenarios), the entire structure of the game-plan is changed. Every coach wants to get into "3rd and medium or 3rd and short" because anything more than 3rd-and-6 gets into situations where you are going to face the most difficult tests the opponent can present.
Against a team like the New York Giants that led the NFL in blitzing in 2022, we know that this would be stressful evening at their place. You can bet the Cowboys worked on blitz beaters for weeks preparing for Week 1, knowing that a team that blitzes more than any other team in pro football was going to attack and get their stadium rocking.
But, it barely even got a look. Mostly because Dallas was playing with a huge lead and there was no chance that the Giants could control the flow of the game. It is that urgency that makes an offense deal with a blitz. Without the urgency, and up three scores, you gladly run on your punt team and avoid any chance of a game-changing mistakes.
That is why our analysis this week will keep coming back to the luxuries of playing a difficult divisional road game without any pressure. And there was minimal pressure because the special teams and pass rush scored an early-round knockout.
Above, each week, we will look at how Dallas was able to run its offense. The offense scored 27 points on 265 yards which is tremendous production. Bill Parcells would want a touchdown for every 100 yards gained. The yards per play and yards per attempt were quite low, but much higher than their opponent (which we will get to tomorrow). And the vital conversions – thirde down and red zone TD% – were well within the successful range.
Also you will see the Cowboys ran the ball on first down 16 times. In those 16 runs they gained 91 yards which is a very nice 5.7 per carry and that will set up a lot of 2nd-and-4 which is quite acceptable. Second down runs were down at 2.3 per carry, which is definitely not what you are looking for.
Personnel Groupings
are important to track if you are looking to learn about offenses. They tell us a lot about each scenario by watching who is on the field. It is complex at first and may require a pause button when you rewatch a game, but over time you will quickly recognize the grouping by body shapes and alignments. The reason you will want to know this is because defenses do everything based on this identification between plays. All film study and tendencies are from knowing the down/distance and grouping your are facing.
Here are Sundays production numbers by grouping:
11 Personnel (1RB, 1TE) is the most frequent grouping in the NFL and the Cowboys need to be very good at that. In normal games, you will want that yards/play well over 6.0 per play and close to 6.5. The "bigger groups" with multiple tight ends you expect a lower number overall, but the ability to get those tougher yards and balance out the run/pass.
Here are Personnel Groupings on just the run plays:
Above, you will see the success rates of the running game. Tony Pollard had a big 25-yard run in 13 personnel that we will look at below. It only takes one to fix the averages in a hurry. Overall, though, in a game where you are trying to run the clock in bad weather, there is nothing wrong with 30 for 122.
DAK PRESCOTT NEXT GEN PASSING CHART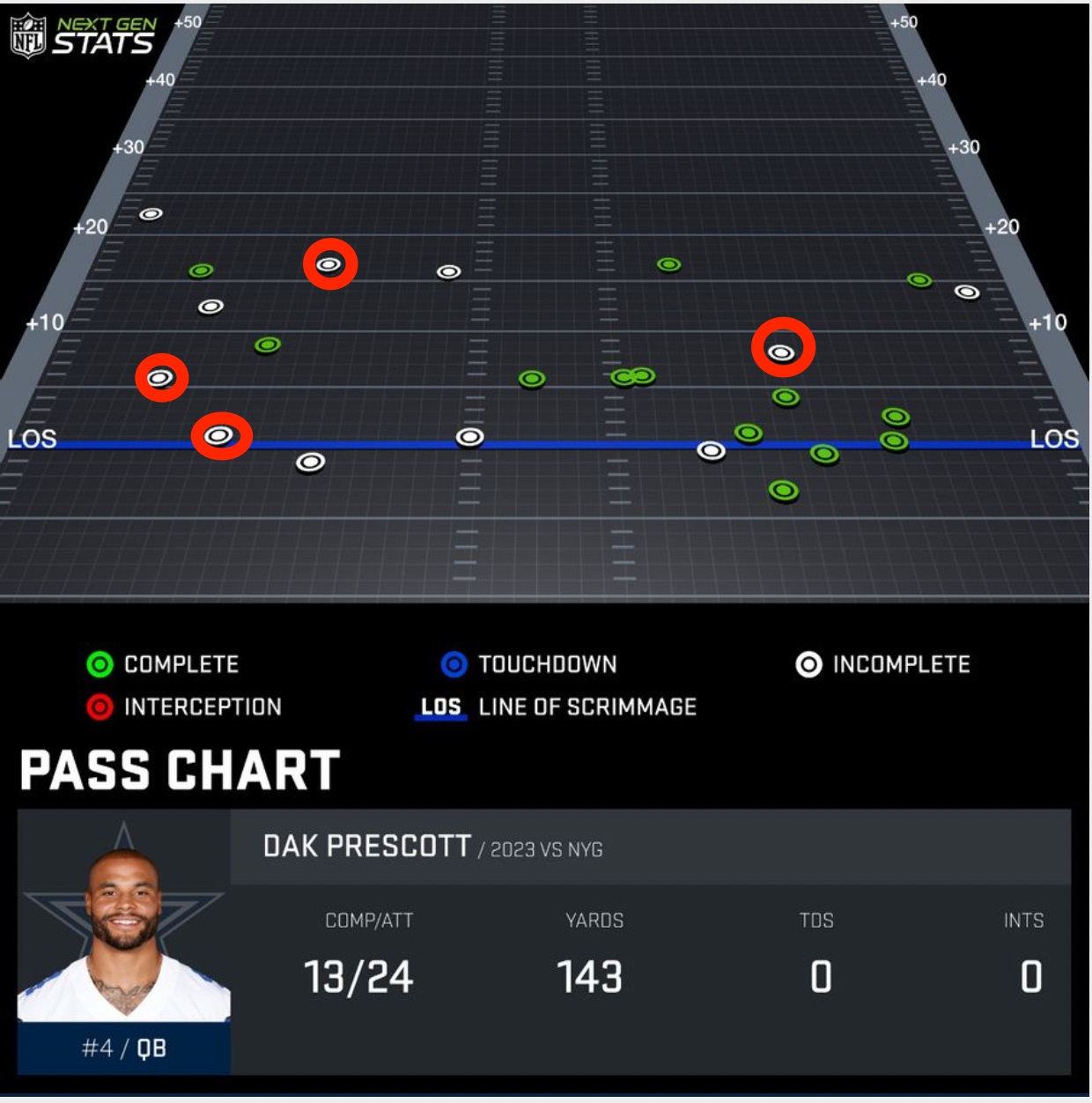 The folks at NFL Next Gen make these charts. The stats for Week 1 are not good. I will say that Dak was victimized by four drops on Sunday which was the most in the NFL by any group of receivers. And in this case, we are talking about Dak's tight ends who all had a case of the drops — including Peyton Hendershot dropping a touchdown. I took the liberty of drawing a red circle around his dropped throws. Not good, but wet balls and all.
Now, I don't know where you are on your personal evaluation of Dak Prescott, but let's get one thing clear: Dak is great against blitzes. I can show you the numbers another time, but just know this: He is a top-5 NFL passer against blitzes and usually teams decide not to do it and to flood zones instead against him. He is up there between Patrick Mahomes and Aaron Rodgers at killing blitzes, so if you want to seem smart, remember that when you are arguing with someone. He is great at recognizing pressure and then making it hurt the opponent.
Here, in a very small sample, are his numbers on Sunday:

So, again, this was more of an offensive primer than breaking down a big offensive day (good or bad) because Sunday's game wasn't much about this offense.
But, now, let's get some film done. I will try to do six plays today:
FILM STUDY
Reminder: the 3 dots on each video on the far right includes "playback speed" and I recommend you slow down the speed as far as it goes so you can see the details of each play in slow-motion.
1Q - 5:55 - 3rd and 4 - DAL 32 - D.Prescott pass deep left to C.Lamb for 49 yards
Ok, this one is great. 3-by-1 receivers to the left and it is 3rd down and 4. If you want to see what this offense can look like, this is your takeaway from Week 1.
3x1 and Lamb is the No. 3 (closest to the ball) on the left. He has Brandin Cooks and Jake Ferguson on his outside and on 3rd down you know that the Giants want to blitz. That means almost every time they will be playing man behind it. How do we beat man?
Rub routes and traffic.
But, with the blitz coming, it has to happen fast. You are trying to cause confusion and you can see two Giants go with Ferguson and nobody with Lamb. Easy read and easy throw.
From the end zone, you can see that there are a lot of options for Prescott if this was defended differently. Watch Cooks and Gallup hit the mesh across the middle as the next read that they didn't need here but will need soon. Great design and impossible to defend on 3rd-and-medium. Cowboys get the protection right against a 5-man pressure as the Giants kept a safety deep with their rookie corners.
2Q - 13:42 - 4th and 3 - NY 38 - D.Prescott pass short middle to B.Cooks to NYG 32 for 6 yards
4th and 3, Dallas goes empty – which I love for this team. Giants are curiously in 2-man which is two deep and man under. This makes it a very straight forward read for Dak and I guess the Giants are too shellshocked in the game to play a 4th-and-3 more aggressively than this?
Odd.
Anyway, Gallup runs into the middle leaving Cooks, the No. 2 to the left, with a very easy slant to get a pitch and catch 4th down conversion. Cooks is a go-to receiver and I cannot believe they can pair him with Lamb all season. Should be tons of fun.
Cooks does need to pay the toll to go into the middle, but he is a very tough little dude.
2Q - 8:07 - 3rd and 1 - NY 2 - T.Pollard right end for 2 yards, TOUCHDOWN.
One reasonable concern is 2023 would be how the Cowboys get these short runs into the end zone without Ezekiel Elliott. Zeke was a slowed down version of himself, but in those short spaces, he would hit it up in there with anyone. There were two different situations on Sunday and this one from the second quarter used the unbalanced line with Tyron Smith coming over to Terence Steele's outside shoulder. Then, they just run outside zone to the two receivers and Pollard patiently waits for a lane and gets in. I was impressed with how easy he made it look. Watch big Steele (No. 78) and tell me he isn't fun on these run plays.
3Q - 12:50 - 1st and 10 - NY 48 - T.Pollard right tackle to NYG 23 for 25 yards
This one is 13 personnel as the Cowboys have all the tight ends out there. Then they motion Ferguson left and run a counter play back to the right with 71-Edoga and 87-Ferguson as the two pullers. Edoga gets the edge and Ferguson is the lead. They ran this play a few other times, but this was easily the smoothest and again you just love how patient Pollard is combined with how explosive. He is a very nice runner.
3Q - 11:31 - 2nd and 6 - NY 19 - D.Prescott pass incomplete deep left to P.Hendershot.
Dak didn't make many high-risk throws on Sunday, but here he wanted a touchdown and I wanted to highlight how well this is thrown and how we need better out of a tight end here. I know holding Peyton Hendershot to Jason Witten's standard is unfair, but Witten has this ball 10 out of 10 times. Hendershot needs to bring this in and this would be a spot where you would be happy the score was not in question. This is an absolute dime.
You literally cannot throw it better than that.
4Q - 11:37 - 3rd and Goal - NY 7 - K.Turpin left end for 7 yards, TOUCHDOWN.
Its the fourth quarter and you are up 33-0. What if we put the 155-pound Kavontae Turpin back there and let him run a Tyron Smith pull-lead inside the 10 and see if the Giants have the interest in stopping a 3rd-and-7 run?
Look at big Edoga and Martin out front like Kramer and Thurston. This is when it is fun to run the football right down their throats.
40-0 and nothing to complain about. Tomorrow it gets better with a look at seven sacks and three takeaways!