Joined

Apr 8, 2013
Messages

1,345
Cowboys Morning After Week 1: The Defensive Destruction
Seven sacks set the tone for a beatdown that was over by halftime

BOB STURM
SEP 11, 2023
If defense wins championships, I have great news for you in 2023. Because that Dan Quinn Dallas Cowboys defense – the one that was tops in the NFL in takeaways in 2021 and 2022 and the one that was amongst the very best pass-rushing crews in 2021 and 2022 – is back and they might be better than ever.
They chased down Daniel Jones for seven sacks last night in their ridiculous spanking of the New York Giants to the tune of 40-0 at MetLife Stadium in East Rutherford, NJ. That gives Dallas an NFL-leading 102 total sacks since the start of 2021, or as we should probably say, since Micah Parsons first put on a Cowboys uniform and since Dan Quinn was named the Cowboys defensive coordinator.
It might be tough to properly assign credit for the Cowboys defensive dominance in the last few years, but if a team can lead the entire league in takeaways (70) and sacks (102) since the day those two men joined the franchise, then let's give them big pieces of that pie and marvel at what this has become.
It doesn't take much time in the Cowboys time machine to remember what 2020 was like for the Dallas defense under one-and-done coordinator Mike Nolan. They were 28th in points allowed, 31st in stopping the run, 26th in third-down defense, and anything but dominant.
Fast forward ahead a few years and now you can see on several occasions that there are opponents who appear "spooked" early in a game and quarterbacks who are completely aware that their protectors have no chance at protecting against Dan Quinn's group of destroyers.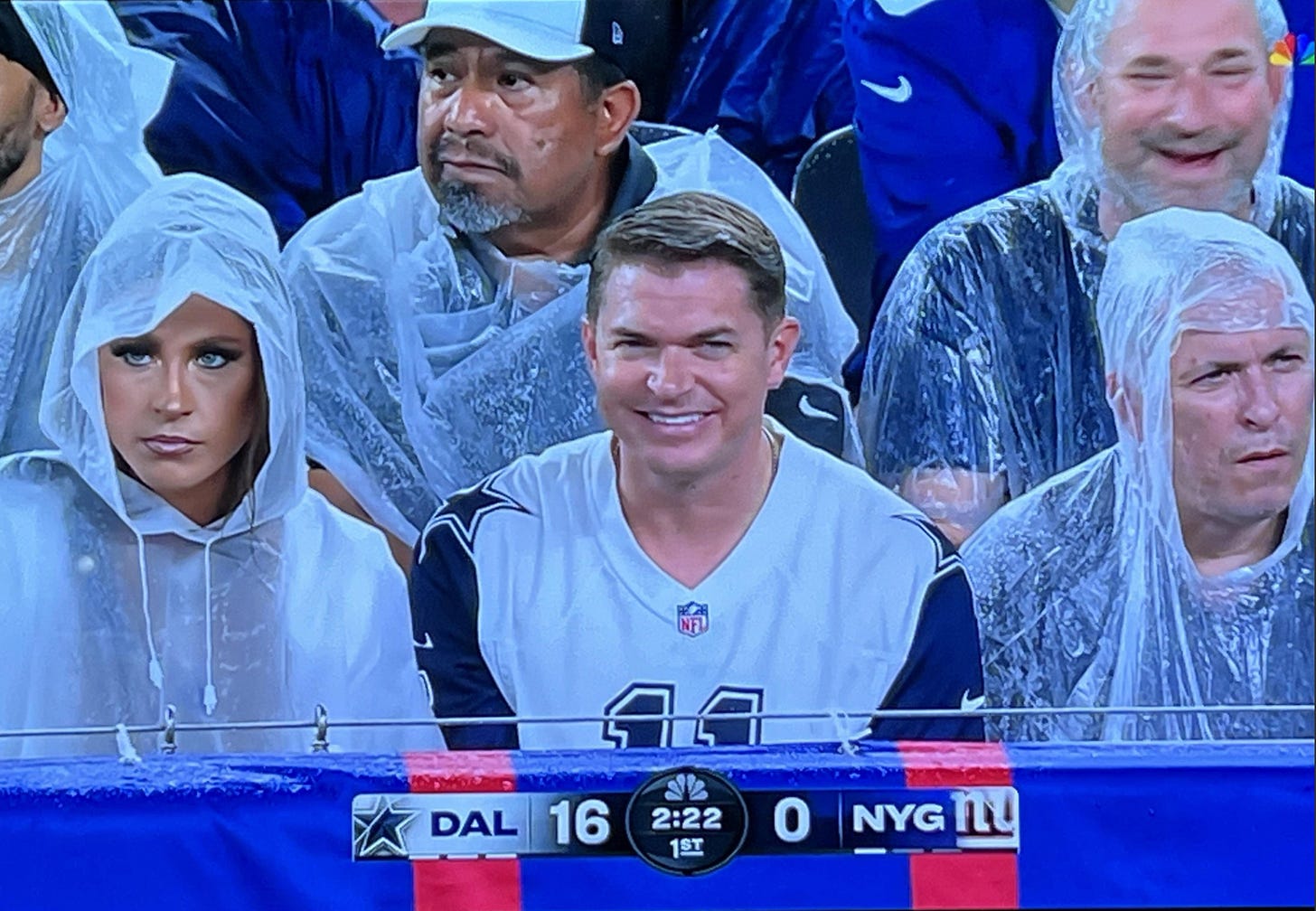 We saw this in Minnesota with Kirk Cousins last November. A 13-win Vikings team almost immediately raised a white flag because they could not deal with this Dallas front destroying every pass play before their QB could complete his drop-back. On that day, Dallas had 7 sacks, 28 QB pressures, and a 40-3 win in a very quiet and defeated US Bank Stadium as the entire league took notice.
Cousins looked completely distracted by the pain that was headed his way as his eye level dropped and you could sense his objectives for the day adjusted from trying to find his receivers downfield to simply surviving the day.
Well, it was back in this memorable season opener of 2023. Daniel Jones had just secured a 4-year, $160 million deal to make him another extremely well-compensated mid-level QB, because teams feel trapped in this day and age. They play it safe and sign their guy, even though they know full well that they were protecting him for the majority of 2022 from doing anything risky. He is
roughly the 20th best starter in the league which is right there as a Tier 3 guy
. To win, things have to be ideal for Jones to function with the other ten members of that offense carrying a big part of the load.
They were not ideal.
It was clear very early in the proceedings that the right side of the Giants offensive line was being attacked and that they were going to be in for the longest of nights because right guard Mark Glowinski and right tackle Evan Neal had no chance.
We saw it first on the Giants second drive. Amazingly, the Giants first drive had put the Cowboys ahead in the game already with a big special teams play. Juanyeh Thomas blocked a field goal about as perfectly as you could right into the path of new Cowboys defensive back Noah Igbinoghene and he ran it to the end-zone for a 58-yard touchdown.
Special teams big plays are becoming more routine around here, but to get this one to start the game and the season from Thomas – a guy we were told was a no-brainer for this roster because of his ability to make plays on teams – was beautiful. Imagine playing in your first NFL game in that setting and finding a way to affect the game right off the bat.
What a way to set the tone.
Thomas is second from the left on this clip and you can watch him time his jump brilliantly and spark the early onslaught of action which gave Dallas a 6-0 lead (yes, they managed to miss
another
extra point). Additionally, Juanyeh has a
n amazing background story that I recommend here from Michael Gehlken
of the Dallas Morning News.
Let's get back to the pass rush because that is the story of the day. The first big moment was on a 3rd and 10 with 7:54 to go in the 1st Quarter. Here, DQ calls an overload to attack the right side of the Giants line with Dorance Armstrong lined up in the A-Gap between the center and right guard, Micah Parsons is in the B-Gap between the right guard and right tackle, and DeMarcus Lawrence is in the C-Gap outside the right tackle. This isolates each of those players if they decide to give their line no help.
The Giants appeared ready, though, because the tight end stayed in against Lawrence to help. This allowed the RG Glowinski and the RT Neal to both start on Parsons, before Neal would peel back to take over from the tight end and get to Lawrence. The trouble with that is Glowinski has absolutely no prayer with Parsons and the moment Parsons squares with the right guard, it is over. Parsons brushes Glowinski out of the way and dips his shoulder between the off-balance guard and Saquon Barkley who is now headed out to his route.
Perhaps Barkley was supposed to chip Parsons, but the moment he didn't make contact, you can see Daniel Jones change his posture. He now sees Parsons right in front of him about five yards away. Now, like a postman who notices a huge dog is chasing him with no barriers to protect, you can see everything else cease to matter. Jones is now protecting himself and bracing for impact. Parsons closes in a blink and the series ends with Jones on the ground and rubber pellets all over his face.
The very next offensive play to start the following series went similarly at 3:21 of the 1st Quarter. Now, the Giants are down, 9-0. They want to try a play-action pass off a run-fake rollout that is attached with a deep shot to Darius Slayton if they can get it protected up. That should not be a major problem because of the run fake and the 12 personnel that is in the game for the Giants to help fortify it.
But, this play also had no chance for Jones as the run fake requires the line to not be thrown aside as rookie center John Michael Schmitz, the Minnesota Golden Gopher, was by Osa Odighizuwa. Now Glowinski is trying to recover to get to Osa, while DeMarcus Lawrence is making easy work of Daniel Bellinger, the hopeful tight end who wanted to try to deal with him. Both are now free of their blocks and bearing down on Jones who needs a bit more time for Slayton to get down into the secondary. But, as you surely know, he has no time and seems to basically give himself up before Parsons arrives again.
And it was on that play, just 12 minutes into the new season, where you could feel that Jones was officially spooked. He could sense that his guys had no chance to deal with what Dallas had up front and already the hits were revealing his worst fears. And like Cousins before him, he engaged full survival mode. When that happens, the game is essentially over.
The QB is no longer looking for ways to beat you, but rather ways to get out of the stadium with his health and safety. When we try to evaluate QB play, there are certain games where it is almost pointless because this amount of pressure and distress make the game impossible and secondary. I would argue that it was very early in this game that the Giants offense had no chance. They could not block the Cowboys pass rush. What a hopeless feeling, less than an hour into a new season that must be for all involved, especially when you thought you had your guys and they were much improved.
Everyone has a plan until you get hit in the face.
Two plays later, the game essentially ended with 2:30 to go in the 1st Quarter. It was a 3rd and 19 and the Giants were now content to bring on the punt team and would run a quick swing pass to Barkley in the flat and let him get a few yards. He caught the ball just short of the 20, needed to get to the 35-yard line to flirt with a 1st down. Instead, the wide zone defender delivered a hit that jarred the ball loose before it was fully secured. The ball popped right to Daron Bland who couldn't believe his good fortune of a gift interception and he quickly ran in for a touchdown. But, it was all caused by the hit.
And who delivered the huge hit?
Trevon Diggs.
This is where it is fair to note that Diggs is not known for his hitting. In fact, one of the main reasons many fans were very troubled by the idea of his 5-year/$97 million contract he just signed was that he seemed to avoid contact. In fact,
his avoidance of hitting George Kittle in the playoffs last year might have decided that game
and the chance for Dallas to play in the NFC Championship Game. Perhaps he has changed his ways? What a development that would be because this one was textbook on a guy who is not easy to hammer like that. But, he was rewarded for his physicality and the Cowboys had completely knocked the life out of the Giants, 16-0.
All told, the Cowboys took the ball away three times and had both a defensive and a special teams touchdown. They ended up with seven sacks and allowed the Giants 171 total yards.
It isn't often that we can write about a Cowboys game and really not even mention the offense, but in this case, it seems appropriate.
Yes, they did play and they deserve credit for mistake avoidance and quality 3rd down execution, but for the most part, you would simply say they stayed out of the way. Dak Prescott and an offensive line that was missing Tyler Smith did a nice job of not doing anything that brought the Giants back into a game that they were out of. And some days, that is absolutely fine. In this setting, what many believed was a difficult situation to open your season, Dallas checked all the boxes by simply letting the pass rushers win the first game of 2023.
You can sense it won't be the only game they win this year.
When you destroy a team that won a playoff game last year, you start to think back at similar performances. This isn't college football, so the idea of winning games by more than five touchdowns is extremely rare. How rare?
From 2000 through 2020, Dallas had only won two games by 35+ points in about 340 games. But, since November of 2021 in a span of 25 regular season games, this is now the 5th time Dallas has destroyed an opponent by that margin.
Stats Courtesy ProFootballReference.com
What does that tell us? Probably that this is a team capable of some very big things. You could argue that they have a championship caliber defense that might be capable of some special things. Then, you go back and remember this group is 1st in takeaways and 1st in sacks and it all starts to check out. Another year of maturation and adding another elite corner and former NFL Defensive Player of the Year in Stephon Gilmore and you can understand why this team is capable of scaring opposing QBs.
What a way to start 2023. It is quite interesting that their old friend Aaron Rodgers is next up. Time to re-take a test that has been failed too many times to count. If you can spook him, then the sky could be the limit.