Why Michael Gallup will be Cowboys' #1 WR by the end of 2018



By Jeff Cavanaugh
6m ago
The Cowboys took Michael Gallup in the third round this year. It's my favorite pick they have made in the last five years, with the possible exception of Xavier Woods in the sixth a year ago.

Sure, in hindsight the Dak Prescott selection is tough to beat. But at the time of the draft Gallup would be one of the best values according to how I rank players.

I already had a scouting report up on Gallup but I've decided that's not enough. I'd like to show you why I love the pick and player so much.

Guys who are good at everything aren't very common in the NFL. Gallup isn't an elite athlete and he wasn't gifted with elite size – but he is a great football player. Those are the guys you want on your team. Other players get pushed up in the draft because they run a 4.3 40 or are 6'3 with great movement skills. Then your average-sized, average athletes slide down and provide incredible value to someone. That someone is the Cowboys.

Gallup had 100 catches for 1,418 yards last season despite some quarterback struggles that were apparent on tape. How did he do it? I'm glad you asked.

When it comes to the contested catch, Gallup is an artist (pronounced are-TEE-st). Contact doesn't bother him in the slightest, he actually seems to enjoy it. This is one of his multiple Dez-ish traits.




Most receivers struggle to hold on to the ball if they're getting popped while trying to bring it in. Not Gallup. He can create room for himself at the top of routes with his physicality and will attack the ball and hold on while absorbing contact.
Another positive quality is that he lines up everywhere. Some receivers only line up on one side and you wonder if there's a reason for that. When you see a guy line up everywhere, run all the routes and thrive it speaks to his football intelligence. Here he's the motion man and runs a simple out route but once again you see how he physically wins in his routes. Sure, it's a terrible throw and not a completion. But we're just looking at the player's traits.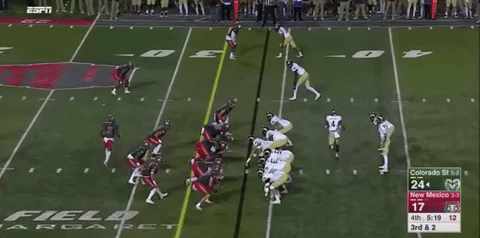 Being able to muscle guys in the route to give the quarterback a nice window to throw to is a great trait for a receiver to have.

The next thing to love is his after-catch ability. He has a great feel for how to make guys miss but more often, he just shows the power and aggressiveness to run through tacklers. This is his second Dez-ish trait.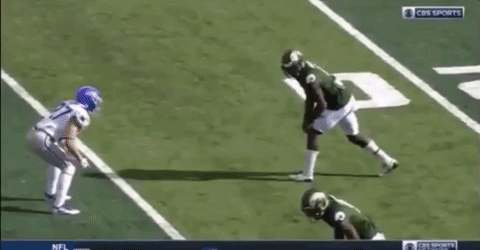 One of the things that always draws me to prospects is their route-running ability. Gallup does that very well. He understands releases, how to stem a defensive back and set up his next move and makes decisive cuts and stops. Here against a zone defense, he sells that he's running an underneath route to draw down the coverage before sticking his foot in the ground and getting vertical for an easy touchdown.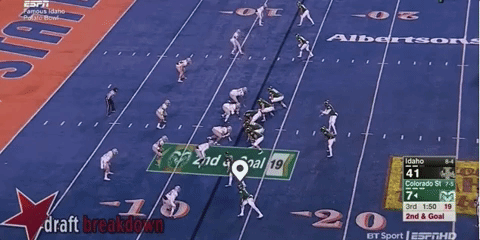 Receivers have to be able to succeed against both man and zone coverage if they're going to be good in the NFL. Gallup does. Here you see that contact during a route doesn't bother him and he's going to get to his spot, know when to look for the ball and what to do once he has it.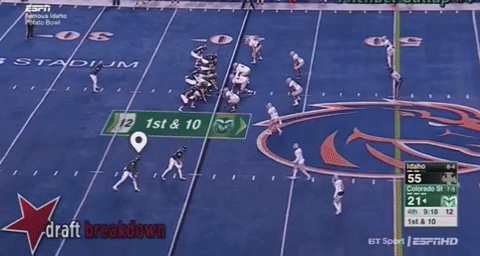 Time for Dez-ish trait #3: The jump ball. This isn't a perfect example since the corner slips but he regularly beats defensive backs to the bal with physicality and has a great feel for how to high-point it.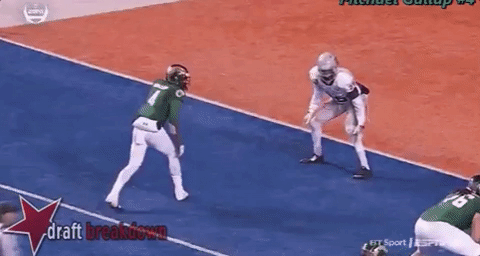 I'm not a crazy person. I'm not claiming that he's Dez Bryant when it comes to the 50/50 ball. Dez was the best in the league at it for years because of his insane physical ability, size, and strength. Gallup is a 'lite' version of Dez when it comes to the physical part of the game, but it is an element he brings

Where he's superior to some of the classic jump ball specialists is that he's a good route runner that can get separation on the entire route tree. Here are the numbers showing that he's above average on any route you want him to run.



The final thing to point out which is underrated a lot of times when it comes to receivers is how they respond to a ball in the air that's off target. Some guys don't have the ability to change which shoulder they're looking over and stay on track to make the catch. Gallup can track the football seamlessly and make some catches that a lot of receivers wouldn't have a chance on.



Is he Dez Bryant on the 50/50 ball? No.

Is he Antonio Brown/Odell Beckham as a route runner? No.

Is he a deep ball threat like Ted Ginn? No.

Is he going to be the best after catch guy in the league? No.

Will he be an outstanding blend of every one of those traits, riding a versatile skill set to a long successful NFL career that's going to be fun to watch? Yes.

And it's going to make him the best receiver on the Cowboys roster by the end of the 2018 season.